Supports Tracking Days or Hours
This iPhone, iPad app was designed from the ground up to make homeschool attendance tracking as quick and easy for the teacher as possible.
Quick Data Entry
We've added a widget to the today view so you don't even have to open the app!. With three ways to enter data you can choose which way is right for you.
Reporting
Homeschool attendance can generate reports in three formats: A concise calendar report, A detailed report, and even a spreadsheet. These reports can be emailed, saved or printed. Even exported into other apps.
Flexible Tracking
Track attendance using either hours or days. If you track hours, you define the increment to control how precisely you want to record your attendance. If you want you can even track some students using days and others hours. Setup your school year and specify your vacation days. You'll know exactly how many days are left. Share school years accross all students or give some students custom school years.
Real-Time Metrics
Homeschool Attendance calculates how many days or hours each student has attended school. It tells you how many school days and calendar days are left in the school year. It even warns you when you're running out of time or tells you when you're on track.
Multiple Students
Track attendance for as many students as you like. Each student will have their own reports and data but you can enter the daily attendance all at once in one place.
Today View Widget
We've created a Today View Widget so you don't even have to open the app to enter your attendance. Pretty Fast!
Quickly Record Attendance for Today
Simply toggle daily students as here or not here. For hourly students, press the + - buttons.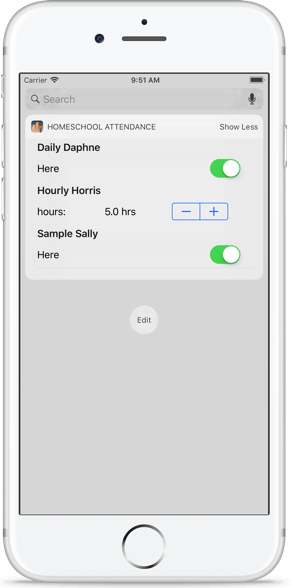 Attendance View
The Attendance view shows you where all your students stand at a glance.
A Week at a Glance
You can see an entire week's worth of attendance. Quickly switch between days by tapping the weekday buttons on the top. Go back or forward in time with the < and > buttons.
Attendance Progress
Each student has their own progress bar indicating how close they are to meeting their attendance target for the school year. Also, if any student is falling short of their attendance goal, a warning flag will be displayed so you'll know right away if you need to make adjustments.
Create Notes
Did you go to the museum? Was your child ill? Record attendance related notes here for your records.
Track Attendance With a Swipe of the Finger
Simply move the toggle button to mark daily students as present. Slide the hour slider for hourly students.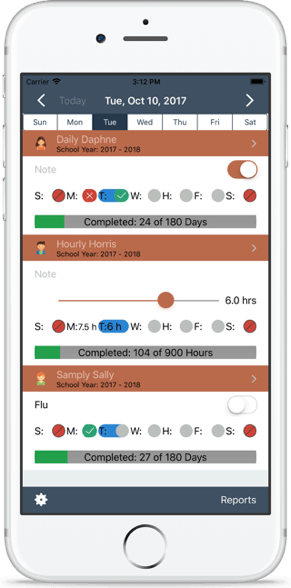 Calendar View
The Calendar View will give you a year's perspective of your student's attendance.
Update Attendance Records
You can navigate to any day of the year to update attendance records. Very convienent if you purchase this app in the middle of the school year.
Attendance Metrics
See how many days or hours your student must complete to reach their attendance target for the school year. Also see how many school days and calendar days are remainging for the school year.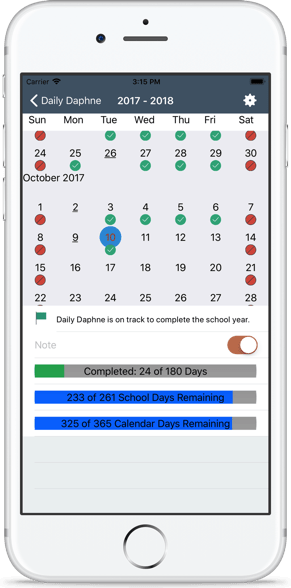 Reporting
Homeschool Attendance provides multiple reporting options.
Calendar Report
The Calendar report is designed to be compact. An entire year can fit on one sheet. The total attendance, days or hours, is calculated for the school year as well as monthly tallies.
Detail Report
The Detail report contains all attendance days or hours as well as notes you have entered for the school year.
CSV Report (Spread Sheet)
The CSV report outputs the attendance data for a student in a format easily imported into spreadsheets such as Numbers® and Excel®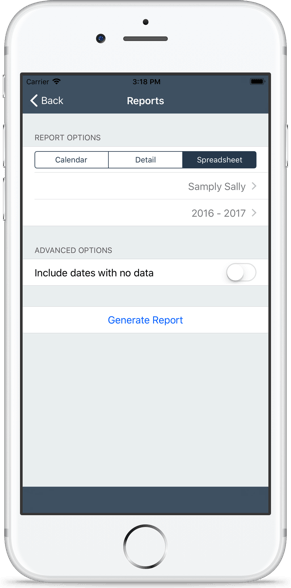 Want to Contact us?
Keeping in touch with our customers is a top priority here at 3Stone Software. We've provided a support desk to ensure prompt and accurate communication.
Three Stone Software, LLC
PO Box 627
Palisade, Colorado 81526